Surprisingly rich sound
Bluetooth music streaming from Android powered device
Rich omni-directional sound to fill your bedroom
Neodymium speakers for pure balanced sound
Shielding technology to block mobile phone interference
Elegant and compact
360-degree design for gorgeous look from any angle
Elegant and compact design to fit on any bedtable
Designed for your bedroom
Auto clock synchronization with Android powered phone
Soft glow night light
Easy to use
Smartly designed FlexiDock to fit/charge Android phone
Discover, share music & more features via DockStudio app
Songbird to discover, play, sync music between PC & Android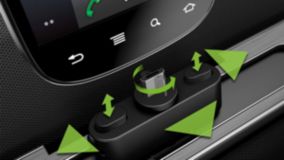 Smartly designed FlexiDock to fit/charge Android phone
The Philips FlexiDock is perfect for Android powered phones. Its unique design cleverly docks most Android powered phones - whether the phone's connection socket is at the bottom, on the side or even on the top. This extreme flexibility is the first of its kind, catering to Android powered phones that are made by different manufacturers with no standardized position and orientation for the micro USB connection socket. The dock is also adjustable to hold the phone in both portrait and landscape positions, letting you position your Android powered phone at the centre of the speaker.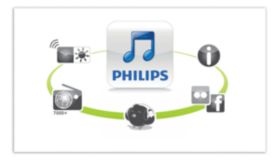 Discover, share music & more features via DockStudio app
The free Philips DockStudio app brings a myriad of unique features to your docking speakers. You can listen to thousands of Internet radio stations worldwide, browse your music collection and share what you are listening to with friends via Facebook, or photos of the artist on Flickr. The app comes with Songbird music function, so you can discover, play and sync media seamlessly between PC and Android powered devices. In Clock mode, the app lets you set multiple customized music alarms and gives updated weather reports. Completely free, the app can be downloaded from Google play.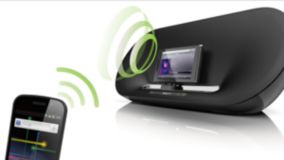 Bluetooth music streaming from Android powered device
Listen to all your favorite songs on a speaker that delivers fabulous sound. This docking speaker plays music from your Android powered devices via Bluetooth. Simply download the free Philips DockStudio app and the Bluetooth will automatically be turned on and connect once when your device is docked. You get to enjoy powerful and outstanding sound, with unbeatable convenience. Hardly anything else sounds as good.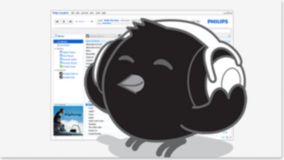 Songbird to discover, play, sync music between PC & Android
Songbird is a simple, easy-to-use PC program and Android app. It lets you discover and play all your media, and sync it seamlessly with your PC. Its intuitive and powerful music management features let you discover new artists and music styles directly in the program through music and media stores, services and websites. Play your own library and media from the Internet and seamlessly sync all of it from your PC to your Android devices.
Auto clock synchronization with Android powered phone
Simply connect your Android powered phone, and the docking speaker will automatically synchronize its clock's time with your phone's.
Neodymium speakers for pure balanced sound
Neodynium is the best material for producing a strong magnetic field for greater sensitivity in a voice coil, better bass response and a pure balanced sound quality.
Android device compatibility
Android version 2.1 or above: Yes
Bluetooth version 2.1 or above: Yes
Micro USB: Yes
Check out: www.philips.com/FlexiDock for more details and latest compatibility information
DockStudio App for Android
App name: DockStudio, Free download from Android Market
Compatibility: Philips docking speaker for Android
Music playback: Songbird Android App
Bluetooth connection: between Android phone & docking speaker. Fully automatic connection when docked
Internet radio: TuneIn with over 7000 stations
Clock: Analog display, Digital display
Alarm: Multiple alarms, Sleep timer, Wake up to music, Wake up to nature sounds, Wake up to photo
Sound
Output power (RMS): 4W
Sound System: Stereo
Volume Control: Volume Control up/down
Audio Playback
Cradle playback mode: Play and Pause, Next and Previous track, Charging Android phone
Loudspeakers
Neodynium magnet system: Yes
Convenience
Clock/Version: Digital
Connectivity
Bluetooth version: 2.1
Bluetooth profiles: A2DP, AVRCP, SPP
Bluetooth range: line of sight, 10M or 30FT
Aux in: Yes
Dimensions
Product dimensions (WxDxH): 171 x 67 x 171 mm
Weight: 0.75 kg
Weight incl. Packaging: 1.03 kg
Power
Power supply: 100-240VAC, 50/60Hz